Token2 Hardware Tokens plugin for WordPress

en français
The Token2 Hardware Tokens plugin for WordPress gives you two-factor authentication using the Token2 Hardware Tokens. The two-factor authentication requirement can be enabled on a per-user basis by administrators.
All Token2 hardware tokens are compatible with this Wordpress plugin. Please note that there is no need to have these tokens programmable, so we can recommend benefiting from cheaper
classic tokens
. However,
programmable tokens
will also work.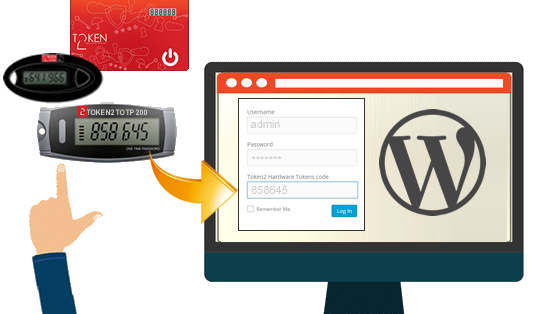 Installation Instructions
Make sure your webhost is capable of providing accurate time information for PHP/WordPress, ie. make sure a NTP daemon is running on the server.

Install and activate the plugin.

Enter a description on the Users -> Profile and Personal options page, in the Token2 Hardware Tokens section.

Enter the secret code of the token assigned to this user (this code is sent by Token2 after you confirm delivery) in the Secret field in Base32 format.




You may also want to write down the secret on a piece of paper and store it in a safe place.

Remember to hit the Update profile button at the bottom of the page before leaving the Personal options page.

That's it, your WordPress blog is now a little more secure. When logging in, the form will ask to enter an OTP in addition to username and password



For more information and download visit this page.
Subscribe to our mailing list
Want to keep up-to-date with the latest Token2 news, projects and events? Join our mailing list!