Utilisez Token2 TOTP Tokens physique et clé de sécurité avec DUO

DUO (récemment racheter par Cisco) est un fournisseur de sécurité d'accès unifiée et authentification a deux facteur livré par le cloud. Ses services peuvent être utilisé avec HOTP et TOTP physique Token, et puisqu'il n'y a pas de system de resynchronisation automatique à disposition, Duo conseille d'utiliser HOTP, même si Duo support TOTP comme protocole, sans ajustement de temps de fonctionnement.
L'ajustement du temps de fonctionnement des TOTP Token et resynchronisation ne sont pas pris en charge. Par conséquent, les TOTP Token ne sont pas garantie de fonctionner pour l'authentification avec Duo Security, ou cessera de fonctionner pour l'authentification après quelque temps.
Tandis que les Token physique HOTP son conseiller par Duo, ils sont toujours susceptibles de se désynchroniser et aura besoin d'être reconfigurer manuellement.
Les Tokens peuvent se désynchroniser si le bouton est appuyé trop de fois et génèrera des MDP non valable au login. Contactez votre administrateur s'ils ne marchent plus.
Pour évitez ces problèmes mentionnez ci-dessus, vous pouvez bénéficier de nos
Tokens programmable sans limitations de synchronisation de temps
. Quand ces Tokens son utilisé, la resynchronisation peut être configurer par l'utilisateur sans avoir besoin d'administrateur. La synchronisation de L'horloge physique peut se faire avec l'application TOKEN2 NFC Burner, disponible sur Android et Windows, via le protocole NFC. Se référé à cet article pour les instructions de l'importation des Tokens TOTP physique sur votre compte DUO
---
Périphériques HOTP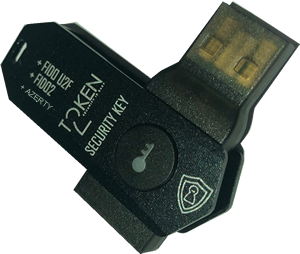 En addition des Tokens TOTP programmable, les
clés Token2 FIDO2
sont pris en charge également. Si la méthode HOTP est activée sur l'appareil, les chiffre OTP seront envoyer automatiquement par l'interface HID USB quand le bouton sera appuyé.
Subscribe to our mailing list
Want to keep up-to-date with the latest Token2 news, projects and events? Join our mailing list!