Utiliser une Clé FIDO2 Token2 avec votre compte client Boursorama

Tandis que les clés FIDO2 sont les seuls à avoir la technologie anti-phishing, les banques n'ont pas encore transitionner vers cette méthode sécurisée pour les interfaces en ligne. Actuellement (Aout 2022), il y'a seulement deux banque dans le monde qui propose les clés FIDO2 comme méthode d'authentification. Une d'elle est Boursorama, qui vous offre une connexion à la fois plus facile et rapide tout en augmentant la sécurité grâce au Protocol FIDO2 WebAuthN.
Ce système est vérifié et pris en charge par l'alliance FIDO qui vous offre la possibilité de vous connecter à votre compte client depuis un ordinateur ou mobile, en utilisant une méthode différente grâce aux clés de sécurité intégré dans vos appareils de confiance, remplaçant le mod de passe de votre compte Boursorama.
En fonction de votre appareil, vous pouvez être offert plusieurs facteurs d'authentification en addition de la clé FIDO2 :
- Code PIN (model USB et NFC)
- Empreint Digital (model T2F2-Bio et T2F2-Bio2)
Dans ce guide, nous vous guiderons dans les étapes nécessaires pour enregistrer et activé votre clé Token2 FIDO2 dans votre compte Boursorama.
Prérequis
- Un compte Boursorama
- Une clé Token2 FIDO2 avec un PIN code ou empreinte digital activée.
S'enregistrer
Attention : pour l'inscription d'une clé, votre Navigateur web et votre Appareil/OS doit être compatible. En particulier, votre appareil doit avoir un system d'authentification intégré (Windows 10 Hello, Android 7+ MacOS & IOS 14+) prenant en charge le Protocol WebAuthN. Veuillez-vous référé à cette article pour les compatibilités.
Pour enregistrer une clé, aller sous "Mon profil" puis "Mes clés de sécurité" dans votre espace client.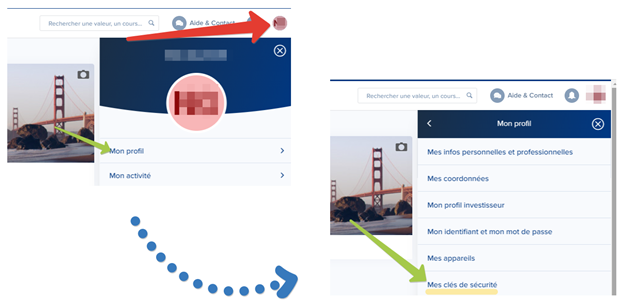 Puis cliquez sur "Ajouter un appareil":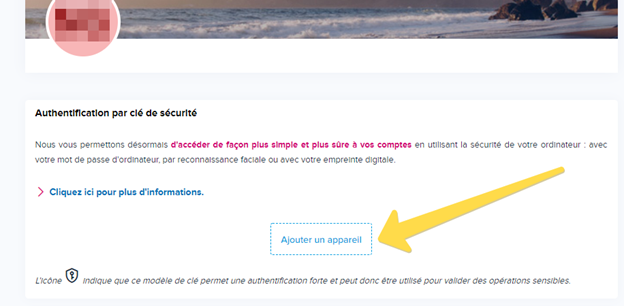 Sur la page suivante, cliquez sur "J'utilise un périphérique Fido (avancé) " a la place de "J'utilise la connexion de mon ordinateur". L'option par défaut utilise la clé intégrée de votre appareil . Cette méthode peut être aussi utilisé, mais seulement en combination avec les clés FIDO2 enregistrée, en tant que back-up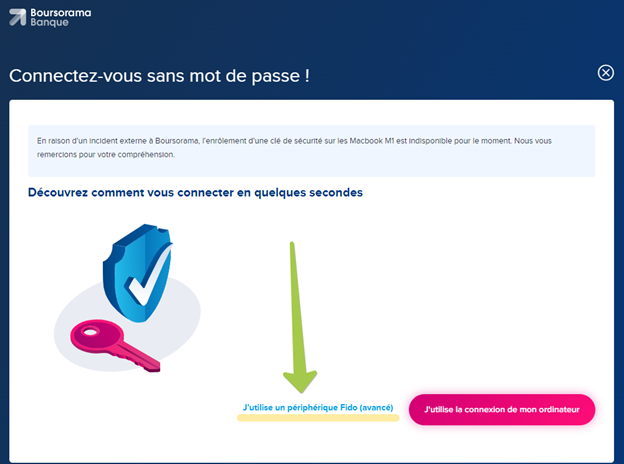 Dans l'étape suivante, le navigateur vous demandera de brancher votre clé FIDO2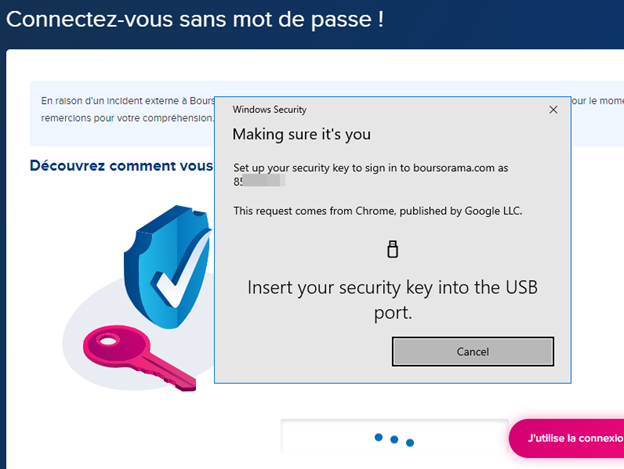 Une fois la clé brancher, suivez les instructions (le system peut vous demander d'entrer un code PIN ou votre empreinte digital, et/ou appuyer sur le bouton de la clé), l'enregistrement sera terminé une fois les Etapes complétées.
L'inscription des clés de sécurité apparenteront sur la liste, similaire à l'image ci-dessous.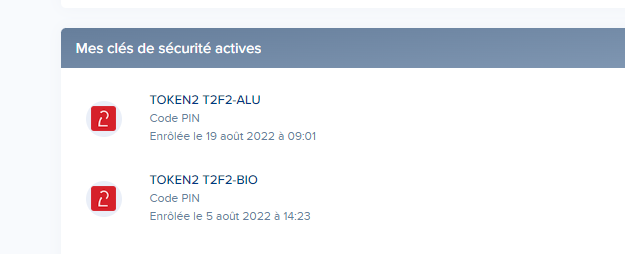 Vous pouvez cliquer sur le nom d'une clé pour pouvoir la renommée correctement (par défaut, la clé est nommée T2F2-ALU).
Subscribe to our mailing list
Want to keep up-to-date with the latest Token2 news, projects and events? Join our mailing list!