blog
Molto-2 v2, the second revision of our most popular multi-profile TOTP hardware token
29-06-2021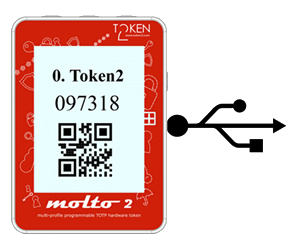 A new version of our popular Molto-2 token is coming.
Molto-2 is our USB-programmable, multi-profile TOTP hardware token. Token2's unique innovation, Molto-2 is the first token of its kind that has many features intended to improve user experience. The second revision of Molto-2 (Molto-2 v2) is currently being finalized and will bring the following new features:
• Molto-2 v2 can hold up to 100 TOTP profiles (as opposed to 50 in the original Molto-2)
• An animated timer indicator of the OTP refresh interval was added
• Molto-2 v2 now supports two display modes: one TOTP profile per screen or 5 TOTP profiles per screen (see video demonstration below)
---
---
Subscribe to our mailing list
Want to keep up-to-date with the latest Token2 news, projects and events? Join our mailing list!