blog
TOTP Hardware tokens with ESET Secure Authentication
15-06-2020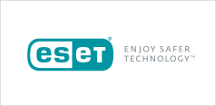 A detailed guide on how to use Token2 TOTP hardware tokens with ESET Secure Authentication solution was published.
ESET Secure Authentication (ESA) adds Two Factor Authentication (2FA) to Microsoft Active Directory domains or local area network, that is, a one-time password (OTP) is generated and has to be supplied along with the generally required username and password, or push notification is generated and has to be approved on the user's cell phone running Android OS, iOS or Windows once the user has successfully authenticated using their general access credentials.
Time-based hard tokens (classic TOTP tokens) are supported in ESET Secure Authentication from version 2.7.32.0.
Token2 TOTP tokens are fully compatible with ESET 2FA and both classic and programmable tokens with unrestricted time sync can be used. The difference between these 2 types is that with classic tokens the resyncing should be done by administrators via ESA Web Console only, whereas with programmable tokens this can be done by adjusting the time on the token itself by the end-users.
To use and manage hard tokens, see instructions here
---
Subscribe to our mailing list
Want to keep up-to-date with the latest Token2 news, projects and events? Join our mailing list!