blog
Token2 TOTPRadius v0.2.5 has been released
05-03-2021

Starting from v0.2.5 TOTPRadius provides new ways of connecting to your corporate VPN systems based on L2TP, such as Meraki Client VPN or Fortinet VPN . The new web-based VPN portal allows logging in using additional methods, such as FIDO Security keys, both in Passwodless mode (if FIDO2 keys are used) and using the keys as the second factor (allowing to use legacy U2F FIDO hardware), as well as Azure AD SSO via OAuth2 protocol.
The new self-service LDAP portal allows enrollment from external (public internet facing) Web VPN portal. In addition to software token enrollment, the new portal also allows hardware token enrollment.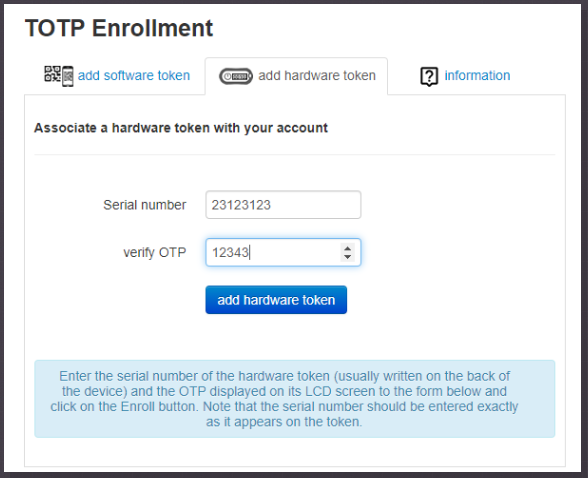 Changelog

[0.2.5] LDAP-based self-service 2FA enrollment public facing web interface with an option to enroll hardware tokens
[0.2.5] LDAPS support with a possibility to upload the CA root certificate
[0.2.5] OAuth2.0-VPN Interface for Azure AD SSO
[0.2.5] FIDO-VPN Interface (with Passwordless support)
[0.2.5] Admin actions history

And, as always, you can download and try the new features at no cost with up to 5 users.
TOKEN2 TOTPRadius v0.2.5
---
Subscribe to our mailing list
Want to keep up-to-date with the latest Token2 news, projects and events? Join our mailing list!